Teeth Whitening – Ellicott City, MD
Blasting Away Stains for a Brighter Smile
Stains and discoloration are unwelcome realities that can leave you looking for ways to avoid social situations because of the embarrassment. Whether caused by thinning enamel, aging, poor oral hygiene, or bad lifestyle habits (i.e., smoking), you may begin to wonder if there's anything you can do to recapture your once whiter, brighter smile. If you're tempted to visit the local drug store to buy one of the many available products, save your money. Instead, the team at My Ellicott City Dentist offers professionals solutions that will leave you feeling more confident in your smile. With teeth whitening in Ellicott City, you can choose an in-office or at-home approach that will produce beautiful results in no time at all. If you're interested in taking the next step and saying goodbye to those stains, contact us today to schedule a consultation.
Why Choose My Ellicott City Dentist for Teeth Whitening?
In-Office Treatment or At-Home Kits Available
Trusted Cosmetic Dentist with Years of Clinical Experience
Professional Results in Just One Appointment
How Does In-Office Teeth Whitening Work?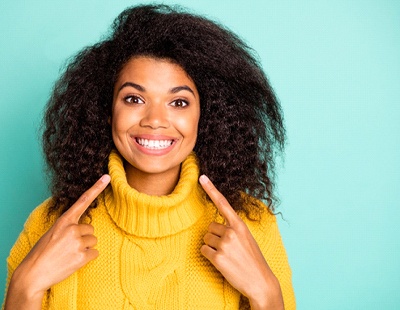 At My Ellicott City Dentist, we use Zoom! Whitening, which is a safe and proven solution designed to help patients achieve brighter smiles. In just one appointment, Dr. Aziz and Dr. Jimenez-Wolf can improve your teeth by 6-8 shades. We'll cover your lips and soft oral tissues with a protective barrier, preventing any of the bleaching gel from irritating these areas throughout the process. We will then apply the gel to each tooth before using a special UV-light. The two work in combination to penetrate the tooth enamel and blast away surface and deep-down stains.
Depending on the desired look you hope to achieve, we can apply the professional bleaching gel up to three times in a single appointment.
How Do Custom Take-Home Kits Work?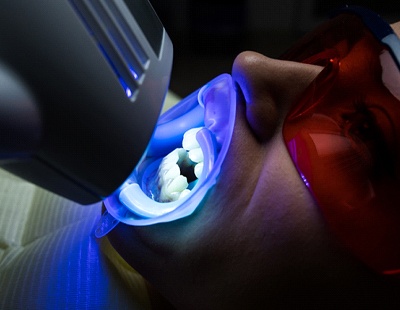 Should you choose to whiten your smile at home on your own time, we can provide you with custom-made, take-home trays. During your first appointment, we will capture impressions of your teeth and send them off to have your whitening trays created. Once they are ready and returned to our office, you will come in to retrieve your kit that includes the customized trays and high-grade Zoom! bleaching gel. Depending on how white you want your teeth, our team will go over the necessary instructions to help you reach your goal. Within two weeks of regular wear, you can expect to see a dramatic difference in your smile.
What Are the Benefits of Teeth Whitening?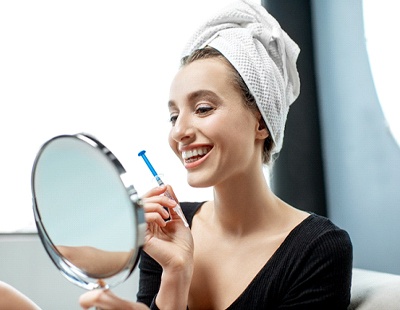 When it comes to choosing a cosmetic treatment that removes stains, you can't go wrong with teeth whitening. While there are many other solutions available that can hide discoloration, you will find there are many great benefits to pursuing in-office treatment or take-home whitening kits. Some of these include:
Saving Time: Whether you want to use your lunch break to stop in and whiten your teeth or spend your evening at home working on your smile, professional teeth whitening can save you valuable time, allowing you to see noticeably dramatic results in as little as one hour (in-office) or two weeks (take-home trays).
A Safer Alternative: While you have the option to purchase an over-the-counter whitening kit from your local drug store, you won't be guaranteed a safe way to whiten your smile. Instead, you might be faced with messy bleaching gel that irritates your soft tissues and uneven results. With professional teeth whitening, you can be sure you're doing it the safer way by allowing your cosmetic dentist in Ellicott City to oversee your treatment.
Enhanced Appearance: Unlike store-bought solutions that make grand promises but fall short when it comes to producing results, professional teeth whitening allows you to see a noticeable difference in your smile, helping you to feel more confident in your appearance. Not to mention, your brighter teeth will help you make a great first impression should you be preparing for an upcoming job interview or first date.
How to Maintain Your Results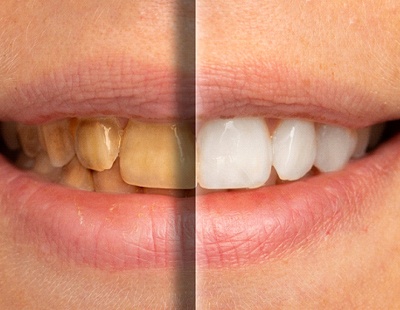 How long your results will last is largely dependent on how well you take care of your teeth after you've completed treatment. Teeth whitening is not a permanent solution, so you will need to be committed to touch-up appointments along the way, but if you want to avoid more frequent visits or whitening sessions at home, there are a few things you can do, such as:
Brushing, flossing, and rinsing regularly to keep decay and gum disease from forming in your mouth and negatively impacting the look of your smile.
Avoiding tobacco products and smoking, as the nicotine can cause your teeth to yellow over time.
Minimizing your exposure to dark-colored beverages like soda, coffee, tea, red wine. You'll also want to limit your consumption of soy sauce, berries, and other pigmented foods.
Use a straw should you be unable to skip your morning cup of coffee, as it will limit the exposure between your teeth and the liquid.
Do not use your teeth to open packages or containers, as you can break down tooth enamel, causing it to thin over time.