Dental Bridges – Ellicott City, MD
Reliable Tooth Replacement for Improved Smiles
You've lost one or more teeth and need to do something about restoring your smile. After reviewing your options, you'd rather avoid an invasive procedure like dental implants and prefer to avoid a partial denture at this time. If you're wondering what option is left that will not only replace your missing teeth but give you a beautiful, confident smile, let the team at My Ellicott City Dentist recommend a dental bridge in Ellicott City! Made from high-quality materials and put into place by trusted experts, you can expect your new restoration to blend in beautifully with your healthy teeth, giving you a reason to smile once again. Contact us today to schedule an appointment and let us help you take the next step in your oral healthcare journey.
Why Choose My Ellicott City Dentist for Dental Bridges?
Dental professionals with years of experience and training
High-quality materials used to create lifelike restorations
Dental insurance welcome and flexible financing available
What are Dental Bridges?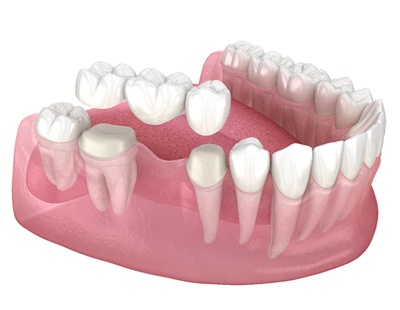 Instead of relying on partial dentures or dental implants, you can find a tried-and-true solution that's been around for decades or longer – a dental bridge. This type of restorative dentistry relies on your natural, healthy teeth located on both sides of the gap to serve as anchors for your restoration. When created by a team of lab technicians, your customized bridge will fit snugly over your healthy teeth and rest on top of your gums. As a result, you are left with a personalized restoration that looks natural and feels comfortable.
Not to mention, you'll also regain some of your bite force and prevent your healthy teeth from shifting out of alignment and causing orthodontic problems to occur.
The Dental Bridge Placement Process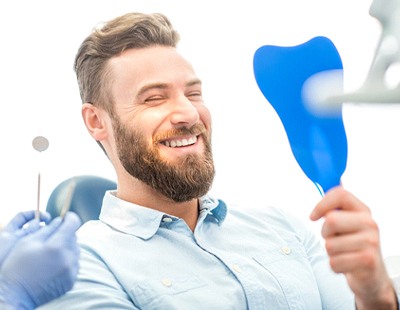 Before you can officially receive your customized dental bridge, it is necessary that you schedule a consultation with Dr. Aziz or Dr. Jimenez-Wolf to determine if you qualify for this type of restoration. If you are missing one or more consecutive teeth along the top or bottom row of the mouth, there is a good chance you are eligible, but you'll also need to have good general oral and overall health.
Before beginning the process, we will provide sedation dentistry should you feel anxious or nervous about your bridge placement. Once you are comfortable, we will begin to file down your natural teeth on either side of the gap to ensure the restoration fits comfortably and snugly when put into place. Next, we will take impressions of this area of your mouth and send them off to a dental lab where technicians will begin to fabricate a customized bridge consisting of multiple fused dental crowns.
While waiting for your finalized restoration, we will provide you with a temporary bridge in the meantime. After several weeks, you'll return to our office to have the temporary removed and the permanent one put into place. It should naturally fit over your anchor teeth and rest on top of your gums, creating the look of a complete smile.
What Are the Benefits of Dental Bridges?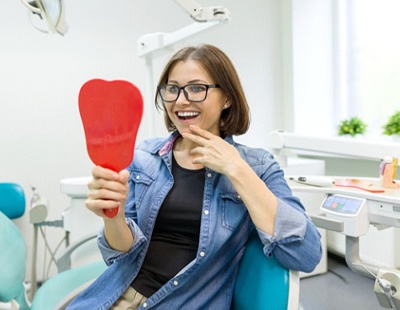 Because of the reputation dental bridges have and their ability to truly serve as a reliable, affordable dental solution for people with missing teeth in Ellicott City, there are many great benefits you simply cannot overlook, some of which include:
The ability to keep your regular teeth in place and prevent them from shifting and causing overcrowding, gaps, or a change in your bite.
Improved bite force while eating, making it easier to chew without worrying about any pain or discomfort.
The chance to speak with clarity.
A visually appealing aesthetic that helps to boost your comfort level and confidence.