Emergency Dentist — Ellicott City, MD
Getting Quality Care When You Really Need It
Your first instinct in a dental emergency might be to call the ER, but that is likely to lead to waiting in a reception area for far too long before receiving treatment that doesn't really address the root of the problem. Instead, you should call My Ellicott City Dentist in the event of a toothache or a dental injury. Our caring dentists and experienced team know how to help you deal with the pain and have access to advanced dental equipment that the ER likely won't have. When you get in touch with us for emergency dentistry in Ellicott City, MD, we'll make every effort to see you on the same day whenever possible.
Why Choose My Ellicott City Dentist for Emergency Dental Care?
Same-Day Emergency Appointments
Modern Facility with Latest Technology
Experienced Dentists and Team Members
How We Treat Dental Emergencies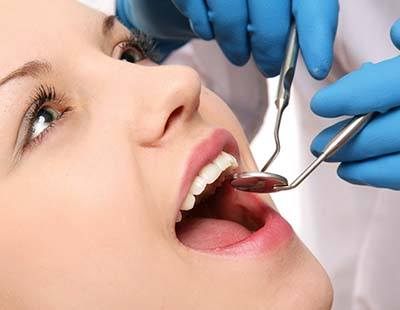 Same-day appointment: After you call our office, we'll make sure that you get scheduled for an appointment at the earliest time possible. You'll also be able to speak with a team member directly and receive first-aid tips to manage your dental emergency. Dr. Aziz will work to get you seen the same day that you call and treat your emergency right away.
Emergency exam: Our first priority is getting you out of discomfort and providing relief. When you do arrive, Dr. Aziz performs a detailed emergency exam to confirm the cause of your symptoms. If the problem is not easily visible, we may capture digital X-rays as well.
Review findings: Once the exam is complete, we'll recommend a treatment plan that's customized to your needs. We'll break down how long we expect treatment to take and the estimated costs associated with it.
Get the care you need: Whether you need dental fillings, crowns, root canal therapy, tooth extractions, or another service, we'll work quickly to get your dental emergency handled as well as prevent your symptoms from coming back.
The Most Common Dental Emergencies
Our office typically treats toothaches that develop due to poor oral hygiene, but there are many potential causes of dental emergencies we can handle. For that reason, it's important that you give us a call the moment you notice something isn't right. Ahead of your appointment, here's what you can do to improve your situation and symptoms.
Understanding the Cost of Emergency Dentistry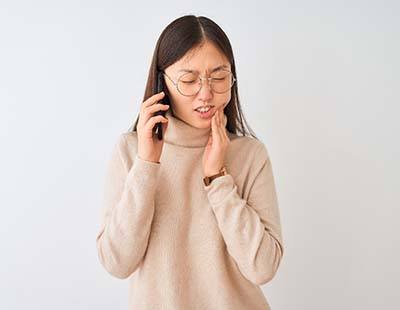 A dental emergency can be alarming, but the cost of emergency care should not be. At My Ellicott City Dentist, Dr. Andrew Aziz provides affordable urgent care to patients with dental injuries or infections. To learn more about the various factors that influence the cost of emergency dentistry in Ellicott City, keep reading below.
Every Dental Emergency is Different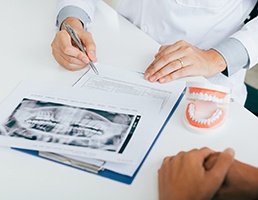 Not only are there many different kinds of emergencies, but some cases will be more severe than others. For example, a tooth can be slightly cracked, or it can be broken off beneath the gum line. Obviously, the kind of treatment required – and the cost it incurs – will vary depending on the situation.
Common solutions to dental emergencies include:
During an emergency visit, our team will assess your needs and determine what further treatment you need to get back to normal. No matter what the situation is, however, we'll focus on bringing you the services you truly need at an affordable price.
Taking Care of Your Smile Can Benefit Your Wallet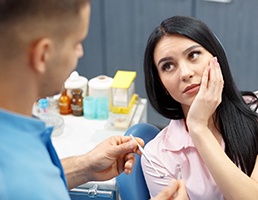 While some mouth injuries happen unexpectedly, many dental emergencies are linked to poor oral hygiene. Tooth decay and gum infections can cause serious, permanent damage if left untreated. However, these issues can often be prevented by brushing twice a day, flossing daily, and visiting a dentist twice a year for checkups. Following these simple preventive steps can end up saving you a lot of money!
You can also protect your wallet by contacting an emergency dentist in Ellicott City as soon as you notice serious dental trouble. Ignoring a damaged or infected tooth will only allow small problems to worsen. Avoid extensive (and expensive) treatment in the future by being proactive now.
Does Dental Insurance Cover Dental Emergencies?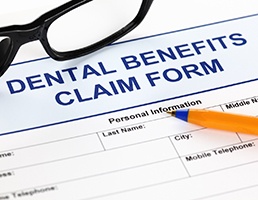 While every dental insurance plan is different, most plans provide some level of coverage for dental emergencies. For example, many fully cover one emergency exam per year. Procedures often associated with dental emergencies, like root canals and extractions, are usually covered between 50% to 80%.
Your annual maximum and deductible will likely influence your final out-of-pocket costs. Before committing to emergency treatment, it's a good idea to confirm your coverage with your insurance provider. Our staff will be happy to help you understand your coverage and make the most of your insurance benefits!
Other Options for Making Dental Emergencies Affordable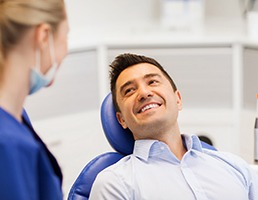 We accept over a dozen dental insurance plans, but third-party financing and our in-house dental savings club are also available for the patients that need them.
CareCredit offers qualified patients low-to-no interest financing for dental care, including emergency treatment. By breaking the cost of treatment into manageable monthly payments, you can get the care you need without busting your budget.
In addition, uninsured patients can also join our in-house Membership Club. One flat annual fee covers your routine care for the year, one free emergency exam, and 15% off all other treatments.
At our office, you never have to put off urgent dental care because you are worried about the cost of emergency dentistry in Ellicott City. If you experience sudden dental trauma or a nasty infection, do not hesitate to give us a call!
Keys to Preventing Dental Emergencies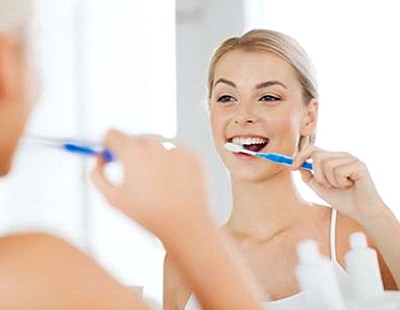 If you want to learn how to prevent dental emergencies in Ellicott City, allow our team of experts to offer helpful suggestions and tips. While we understand not all injuries can be prevented, there are steps you can take at home to minimize the potential for a sudden trip to the emergency dentist. If you're ready to be proactive about your oral health and make sure your smile remains damage-free year-round, check out the available tips below.
Keep Your Regular Dental Appointments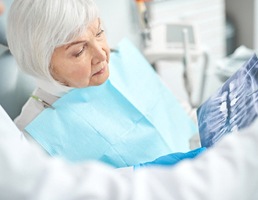 Seeing your dentist every six months is one of the most pivotal components of a good oral hygiene regime. It is also one of the most beneficial ways you can minimize your risk for serious oral health issues. Whether it is a toothache, infection, or minor/major damage, these twice-a-year visits make it possible to catch problems early on and keep your smile looking and feeling its best.
Keep Brushing and Flossing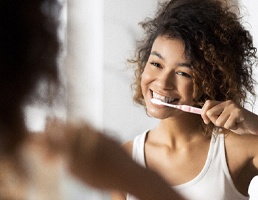 Your oral hygiene routine, when performed correctly, is designed to reduce your risk for tooth decay, cavities, and gum disease. You can keep bacteria and plaque from accumulating as long as you continue to brush twice a day for two minutes, use fluoride toothpaste, floss daily, and rinse with ADA-approved mouthwash regularly. In doing so, you'll avoid many of the most common dental problems that can lead to dental fillings, dental crowns, root canal therapy, and even tooth extractions.
Be Mindful What You Eat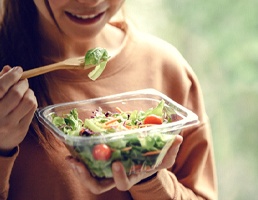 What you consume will eventually positively or negatively impact your smile and your body. Leafy greens, fruits, vegetables, lean proteins, and low-fat dairy are all beneficial to your teeth and gums. Not only do they provide necessary nutrients, but they improve gum health and strengthen tooth enamel. It is far better to incorporate these foods into your daily diet while only enjoying starches and sugars on occasion. This will lower your risk of tooth decay because of the bacteria and harmful acids that can form as a result of poor eating habits.
Wear a Mouthguard to Protect Your Teeth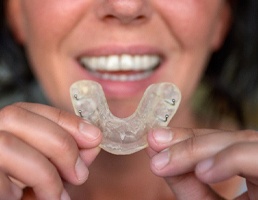 A customized mouthguard is one of the most worthwhile investments you can make when it comes to better protecting your smile. These soft cushions that fit over your teeth make it possible to safely enjoy playing your favorite sport. They can also keep your teeth from touching while sleeping, minimizing your chances of worn tooth enamel and chronic jaw pain caused by teeth grinding (bruxism). Having a customized one made specifically for your smile will ensure it fits comfortably and offers maximum support. It will also keep you out of the emergency dentist office in Ellicott City.
Use Tools to Open Packages, Not Your Teeth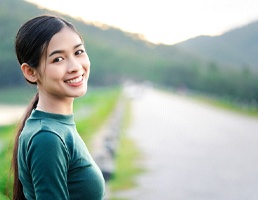 Although it may be tempting and much easier to just use your teeth to open packages, you're better off finding the right tool for the job. Your tooth enamel is strong, but not indestructible. It is meant to tear through food, not inanimate objects (i.e., packages, containers). Instead of putting your teeth at risk for serious damage or even your soft tissues, find the scissors, pliers, or another useful tool and better protect your teeth.
Dental Emergency FAQ's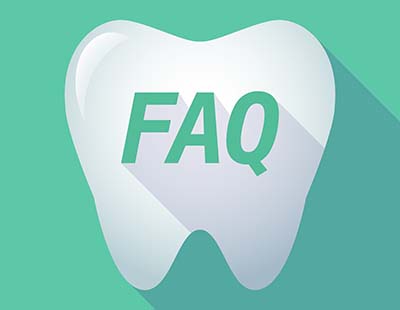 We want you to be as prepared as possible when a dental emergency strikes. Whatever questions are on your mind, we encourage you to voice them at your next dental appointment or to call our office today to ask one of our helpful staff members. Knowing more about dental emergencies can help you avoid them and put you in a better position to have them treated properly. Below are our answers to questions that we've heard multiple times from patients in the past.
Can I Just Wait for a Toothache to Go Away?
In general, you should never expect a toothache to go away on its own. The problem causing the pain will only grow more serious without treatment. As such, any sort of dental pain that lasts more than a couple of days warrants a checkup so that we can see what the cause is and determine if it's anything you need to worry about. It's always better to have underlying concerns identified and treated ahead of time before they turn into irreversible problems. That said, there are certain toothaches where the pain comes from around the tooth instead of inside of it, such as irritation of the gums; this type of pain might actually be able to go away on its own provided you take the right steps to relieve it.
Should I Go to the Emergency Room?
For most dental emergencies, it's better to call our office instead of the emergency room. Most of the time, emergency rooms do not have the means to address toothaches and other dental issues effectively. That said, you should call an emergency room if your dental problem involves one of these potentially life-threatening issues:
Jaw fractures and dislocations
Severe cuts or lacerations in the mouth, especially if it results in unstoppable bleeding
Abscess or infection that is beginning to interfere with breathing or swallowing
Once these problems are resolved, we can address any remaining dental emergencies.
Is a Knocked-Out Baby Tooth an Emergency?
If a baby tooth falls out of the mouth due to trauma or any cause other than natural oral development, you should treat it like a potential emergency, meaning you should arrange a visit as soon as possible. We won't try to replant the tooth in question because it's supposed to come out, but if it's fallen out too soon, we may have to take certain steps to ensure that there's still enough room for the permanent teeth to erupt later on.
What Should I Keep in My Emergency Dentistry Kit?
Having an emergency kit dedicated entirely to dental emergencies is an excellent preventive measure. Some necessities that you should definitely include in such a kit are:
A small container for knocked-out teeth and restorations
Sterile gloves
Gauze pads and dressings to stop bleeding
Cotton balls to cover jagged broken teeth
Dental cement as a temporary filling or adhesive
Ibuprofen or another anti-inflammatory medication
Ice packs for reducing swelling
Contact information for our dental practice