Meet the Dental Team – Ellicott City, MD
We're Looking Forward
to Seeing You
Every exceptional dental office needs excellent team members, but the staff at My Ellicott City Dentist definitely stand out in how they go above and beyond making each of your dental visits an experience free of anxiety or stress. They'll help you find an appointment time that works with your schedule, find a way to keep you comfortable in your dental chair, and walk you through the payment process – all done with a cheerful smile and individualized attention to your needs. You may even find your routine visits start becoming fun! To learn more about our wonderful staff, keep reading below.
Courtney, Office Manager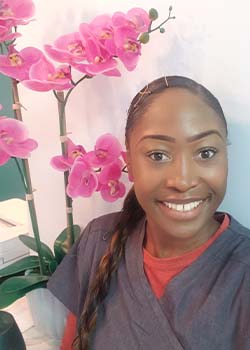 Courtney loves coming into work each day because it means she gets to connect with our patients! She knows how daunting going to the dentist can be, which is why she always goes the extra mile to make each experience calm, comfortable, and enjoyable. Originally from New York, she completed her studies at Queens College.
Courtney is not only new to the Columbia area, but she is also a newlywed! In her free time, she and her husband enjoy exploring their new town, taking walks in nature, bowling, and going out for dinner.
Here's an interesting fact about Courtney: she loves having lasagna for breakfast!