Root Canal Therapy – Ellicott City, MD
Stopping Tooth Pain
Without Fear
Being told that you need a root canal shouldn't be seen as a bad thing. Root canal therapy in our Ellicott City, MD dental office is the answer to stopping constant dental pain and preventing an extraction, and modern techniques have made the process more comfortable than ever before. We'll make sure you stay relaxed and comfortable throughout your visit, so don't hesitate to call us if you have a toothache that needs to be treated.
Why Choose My Ellicott City Dentist for Root Canal Therapy?
Same-Day Appointments for Emergencies
Treatments That Prioritize Your Comfort
Highly Skilled Dentists and Friendly Team
When is a Root Canal Needed?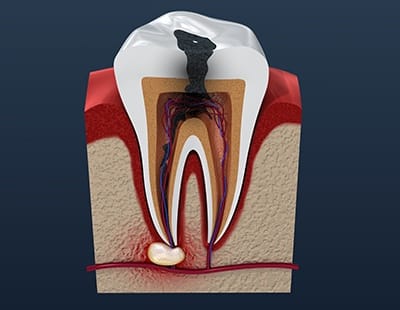 Your tooth is surrounded by a hard enamel layer, but at its center there is a bundle of soft tissue, nerves, and blood tissue. This is the dental pulp, and if it becomes infected due to exposure from bacteria (which might happen if the tooth decays or is broken), you'll begin experiencing some very serious pain. Root canal therapy removes the damaged pulp and disinfects the inside of your tooth to stop the pain. This procedure often ends up saving the tooth from extraction so that you can keep using it normally. Despite what television and other media might have led you to believe, the procedure causes little to no pain; you can walk in for your appointment without fear.