Dental Implants – Ellicott City, MD
The Highest Modern Standard for Tooth Replacement
Our 3 dentists can all agree that among the various options for replacing teeth, dental implants are the best – no question about it. They look extremely natural, and once they've fully integrated with your jaw, they'll feel just like your real teeth. And unlike dentures and bridges, they can very well last the rest of your life. Thus, dental implants should be at the top of your list of treatments to ask about when there is empty space to fill in your smile. To learn more about dental implants in Ellicott City, MD and the tooth replacement process – which can be completed in its entirety at My Ellicott City Dentist – call our dental office today.
Why Choose My Ellicott City Dentist for Dental Implants?
Implants Placed and Restored Entirely In-House
Lifelong Replacements for Any Number of Teeth
Cone Beam Scanner Enhances Planning Process
FREE Dental Implant
Consultation
Are dental implants right for you? Schedule a consultation with us to find out.
Request
a Consult
Today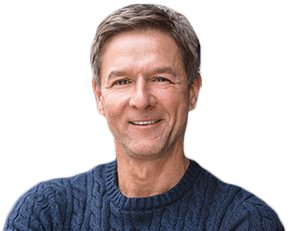 Benefits of Dental Implants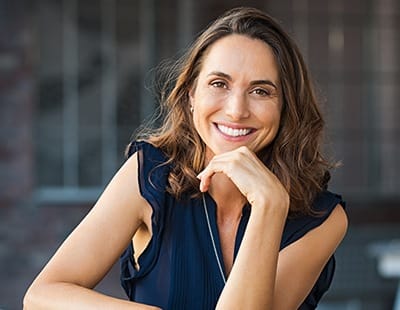 Dazzling Aesthetics: Great care will be taken to make your implant-retained prosthetics indistinguishable from your natural teeth. The restorations will be made entirely from tooth-colored porcelain, and the implants themselves will be completely hidden from view underneath your gum line.
Extremely Sturdy: A dental implant doesn't just replace the top part of your tooth; it also serves as a new root – something no other form of tooth replacement can do. The implant post will join with the jaw itself to serve as a solid anchoring point for a crown (or a bridge or dentures). A successfully integrated implant will not shift or slip out of place, and since it's so durable, you won't have to worry about it breaking.
Long Term Protection: The tooth roots are normally responsible for preserving the jawbone and helping the face maintain its useful shape. Dental implants can fulfil this function and stop the bone loss that would normally occur once teeth are gone.
Made for a Lifetime: As long as your implants are well cared for via excellent oral hygiene and regular checkups, you can expect them to last a very long time. Many implants last for the rest of the patient's life.
Indications for Dental Implants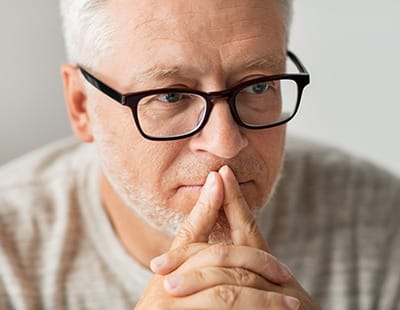 While traditional bridges and dentures are typically only suitable for a few specific forms of tooth loss, implants are versatile enough to fill in any number of gaps in your grin depending on the situation.
Missing Single Tooth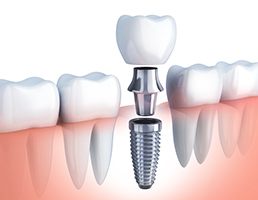 Instead of having two of your healthy teeth altered in order to support a bridge, we can insert a dental implant into the gap and cover it with a ceramic crown once the surrounding bone tissue has healed. This allows you to preserve more of your natural tooth structure.
Missing Multiple Teeth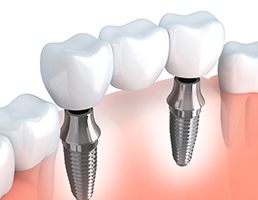 Individual implants with crowns can be placed throughout the mouth if needed, but when several teeth in a row have been lost, you'll only need a pair of implants to replace all of them at once. We can place a dental bridge (a pair of crowns that hold a number of false teeth between them) on these posts, making it far stronger and more stable than it would be if you relied on traditional dental bridge procedures.
Missing All Teeth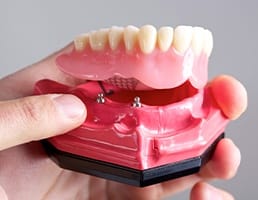 Most people get dentures once they have lost a long number of teeth. However, dealing with a prosthetic that does not stay in place can become tiresome after a while. Four to six implant posts can be used to hold a full denture in place, improving the strength of your new smile and stopping it from slipping when you're trying to speak or chew your food.
Start to Finish Convenience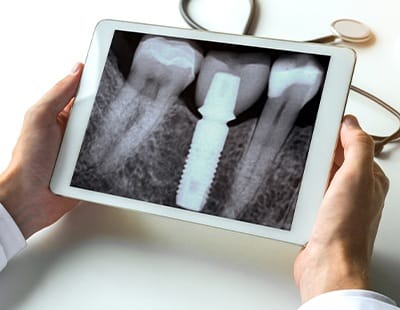 The first step of the dental implant process (after the initial consultation and any related preparations) is a minor surgery where the implant posts are inserted into specific areas of the jaw. Other dentists might need to refer you to a separate specialist to have this step completed. At My Ellicott City Dentist, however, we will stay with you from the beginning to the end of the treatment. The consultation, the implant placement surgery, and the restoration process can all be completed right here by expert dentists and a caring team that you already know and trust.
Understanding the Cost of Dental Implants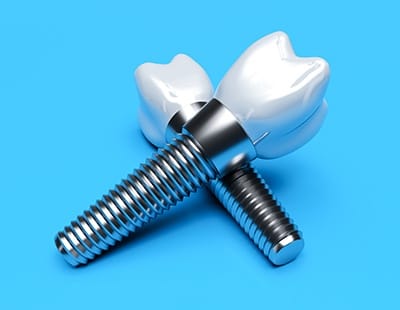 Because dental implants can be used in so many different cases of tooth loss, the ultimate cost of the procedure tends to vary quite a bit. Someone who has lost just one tooth will only need to pay for a single implant and crown, while those with multiple gaps will need to think about how many implant posts they'll need and what kind of restoration they'll support.
Implants may seem like they cost more than traditional dentures or bridges, but that's just what you pay initially. You also have to consider their lifespan; a dental implant is designed to last for several decades while a restoration will need to be replaced every 5 to 15 years. In other words, you won't need to pay for retreatments as often if you choose to get dental implants, thus saving money over the long term.
Dental Implant FAQs
With proper care, dental implants can last for 30+ years. So, naturally, they are quite a commitment. If you have a few questions on your mind about this smile-restoring treatment, then we're here to make finding the answers as easy as possible. Read on as we answer some of the most frequently asked questions about dental implants in Ellicott City!
How Successful Are Dental Implants?
Dental implants come with several noteworthy benefits, from their long lifespan to their versatility. One of the main reasons they are preferred by both dentists and patients alike is because of their impressive 95% success rate! The best way to ensure the short and long-term success of your dental implant is by taking care of it properly. Brushing each morning and evening, flossing daily, and maintaining a healthy diet are all best practices that can go a long way in preserving your new and improved smile. Conversely, engaging in unhealthy habits, like skipping your biannual checkups and smoking, can increase your chances of experiencing dental implant failure.
What Can Cause Dental Implants to Fail?
As previously mentioned, dental implants have a 95% success rate. Although the chances are slim, it is possible for a dental implant to "fail." Typically, it's the result of one of two things: peri-implantitis and failed osseointegration. While peri-implantitis is a form of gum disease that develops from poor oral hygiene, failed osseointegration is the unsuccessful fusion of the jawbone to the implant. Some other common culprits of a failed dental implant include teeth grinding, smoking, and certain medications. Don't worry – our implant dentist in Ellicott City will review all of the risk factors well beforehand.
Am I Too Old to Get Dental Implants?
Think you're "too old" for dental implants? Think again! Not only is there no upper age limit, but this state-of-the-art tooth-replacement solution can help patients who are 35, 55, 75, and older. Ultimately, candidacy for dental implants will depend on factors like your bone density and commitment to good oral hygiene, not your age.
How Long Does It Take to Recover from Dental Implant Surgery?
The extent of your recovery will depend on several factors, including how many dental implants you're getting. While the fusion of the implant to your jawbone can take upwards of six months, patients can resume their day-to-day activities the day after surgery. With that being said, it's important to avoid strenuous exercise and prioritize rest. To combat any discomfort, you can take OTC pain relievers as instructed or place a cold compress against the outside of your cheek. The fusion of the implant to your jawbone can take upwards of six months.
Will People Be Able to Tell That I Have Dental Implants?
Good news: dental implants are completely personalized to your dental needs and smile goals. They are custom-made to suit your face shape, skin tone, and personality, all while blending in seamlessly with your existing smile. Plus, they replace both the root and crown of your missing tooth, providing stability and a strong bite force. In short, the only attention your dental implants draw will be positive.