Dentures – Ellicott City, MD
Enjoy a Complete, Confident Smile Once Again
If you're missing some or all your teeth, we don't need to tell you that tooth loss can take a bite out of your quality of life. Missing teeth make it much more difficult to speak clearly, eat comfortably, and feel good about your smile. At My Ellicott City Dentist, we can help you enjoy a complete, confident smile once again with custom-made dentures! Read on to learn more about these classic, reliable restorations and find out why they're still one of the most popular ways to replace missing teeth in Ellicott City.
Why Choose My Ellicott City Dentist For Dentures?
#1 High-Quality Materials for Lifelike, Long-Lasting Results
#2 Talented and Compassionate Team of Dental Professionals
#3 Precise Custom Fit for Improved Comfort and Stability
What Types of Dentures Are There?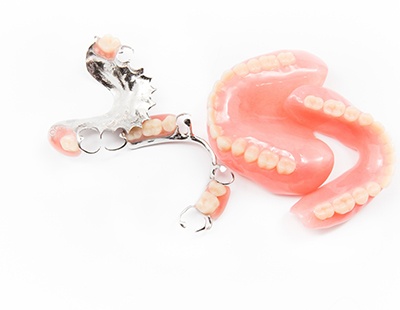 There are several types of dentures in Ellicott City. Depending on the extend of your tooth loss, we may recommend:
Partial Dentures
If you still have healthy teeth remaining, a partial denture can replace the ones you're missing. Like a puzzle piece, a partial denture is designed to fit perfectly around and between your remaining teeth. The lifelike replacement teeth are held securely in place with discreet metal clasps that wrap around your natural tooth structure for seamless results.
Full Dentures
For patients who are missing their entire top or bottom arch (or both), a full denture can replace all their missing teeth at once. For this restoration, natural-looking replacement teeth are set into an acrylic, gum-colored base. This base is precisely crafted for your specific mouth, and this custom fit creates a reliable natural suction that keeps the denture in place.
Implant-Retained Dentures
As an alternative to removable dentures, you may be a candidate for an implant-retained denture. This method involves inserting small dental implant posts into your jawbone to anchor your denture in place. This unique placement provides vastly improved function, comfort, and durability, and it even boasts the potential to last a lifetime!
Who's a Good Candidate for Dentures?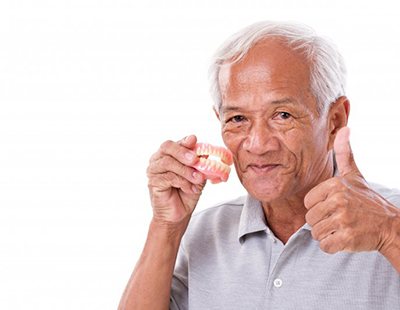 If you're missing most or all your teeth, you're probably a good candidate for dentures. However, before you can be fitted with dentures, we need to make sure your mouth is healthy. If needed, we'll help you treat tooth decay, combat gum disease, and remove any unhealthy teeth to get you ready for your brand-new smile.
What Are the Benefits of Dentures?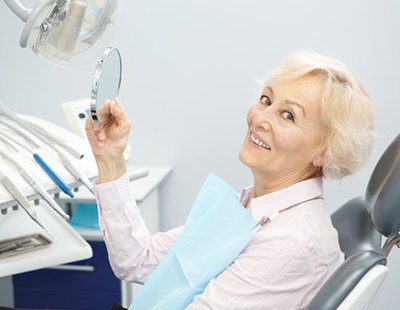 Improved appearance: Dentures help fill out your facial appearance, and the lifelike materials they're made of make them practically indistinguishable from natural teeth.
Restored functionality: Overcoming tooth loss with dentures will improve your ability to speak and chew comfortably. You'll be able to get back to eating a full, varied diet!
Speed of treatment: Traditional dentures can replace your missing teeth and complete your smile in just a matter of weeks.
Cost-effectiveness: When it comes to tooth-replacement options, traditional dentures are one of the most affordable choices available.
Don't let missing teeth hold you back in life. Give us a call today to see if this classic restoration is right for you!